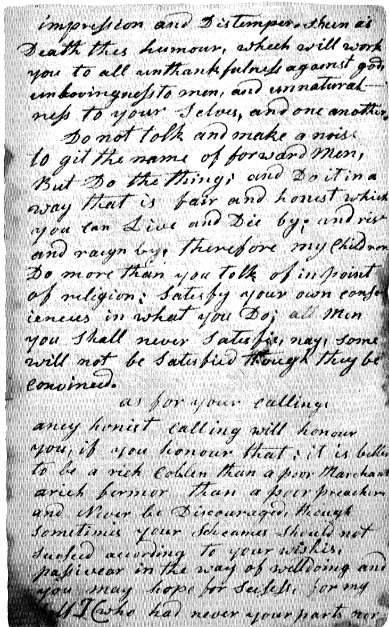 impression and distemper. Shun as death this humor, which will work you to all unthankfulness against God, unlovingness to men, and unnaturalness to yourselves and one another.
Do not talk and make a noise to get the name of forward men, but do the thing and do it in a way that is fair and honest, which you can live and die by and rise and reign by. Therefore, my children, do more than you talk of, in point of religion. Satisfy your own consciences in what you do. All men you shall never satisfy; nay, some will not be satisfied though they be convinced.
As for Your Callings: Any honest calling will honor you if you honor that. It is better to be a rich cobbler than a poor merchant; a rich farmer than a poor preacher. And never be discouraged, though sometimes your schemes should not succeed according to your wishes.
Persevere in the way of well-doing, and you may hope for success. For myself, I (who had never your parts nor