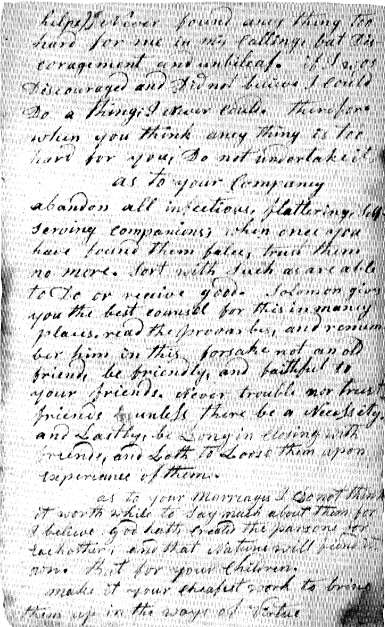 helps) I never found anything too hard for me in my calling but discouragement and unbelief. If I was discouraged and did not believe I could do a thing, I never could. Therefore, when you think anything is too hard for you, do not undertake it.
As to Your Company: Abandon all infectious, flattering, self-serving companions. When once you have found them false, trust them no more. Sort with such as are able to do or receive good. Solomon gives you the best counsel for this in many places. Read the Proverbs and remember him in this. Forsake not an old friend; be friendly and faithful to your friends. Never trouble nor trust friends unless there be a necessity; and lastly, be long in closing with friends and loath to loose them upon experience of them.
As to Your Marriages: I do not think it worthwhile to say much about them, for I believe God hath created the persons for each other, and that nature will find its own.
But for Your Children: Make it your chiefest work to bring them up in the ways of virtue