---
---
---
ALPHA & OMEGA MINISTRIES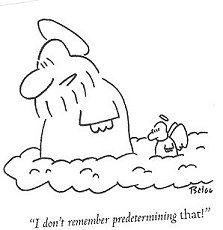 A little Calvinist humor
James White is the director of this anti-Mormon ministry based in Phoenix, AZ. James visits the LDS General Conference each April and October to hand out tracts. He has also published two anti-Mormon books in addition to numerous tracts.
To see a photo of James White, click here.
---
ARTICLES
---
CORRESPONDENCE
"Letters to a Mormon Elder, the Uncensored Version":
Correspondence with James White and Dr. William Hamblin (BYU):
---
WEB LINKS
---
Issues:
Novak, Gary, Does James White Have a Genuine Doctorate? from The Worst of the Anti-Mormon Web
Roper, Matthew, "On Cynics and Swords," FARMS Review of Books 9/1 (1997): 146-158. Review of James White, "Of Cities and Swords: The Impossible Task of Mormon Apologetics." Christian Research Journal (Summer 1996): 28-35.
Irishchico, John, et. al. Here are three responses to James White on matters of Catholicism. We provide these links so that our readers can see that James behaves in the same way with all who disagree with him on religious matters.
Book/Article Reviews:
Letters to a Mormon Elder by James R. White

Norwood, Ara L., review of James R. White, Letters to a Mormon Elder. Southbridge, MA: Crowne, 1990. (FARMS: Review of Books on the Book of Mormon, 5).
Russell C. McGregor with Kerry A. Shirts review of White, James R., Letters to a Mormon Elder: Eye-Opening Information for Mormons and the Christians Who Talk with Them, in FARMS' Review of Books, Vol. 11/1.
Matthew Roper review of White, James R., "Of Cities and Swords: The Impossible Task of Mormon Apologetics," in FARMS' Review of Books, Vol. 9/1

---