---
---
---
Joshua (J.) Reuben Clark, Jr.
---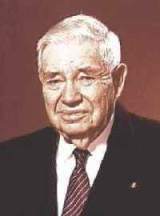 President J. Reuben Clark, Jr. was born on Sept. 1, 1871, at Grantsville, UT. He was sustained as second counselor in the First Presidency, April 6, 1933 at the age of 61. He was ordained an apostle on Oct. 11, 1934 by Pres. Heber J. Grant and set apart as first counselor in the First Presidency on the same day, at age 63. He died Oct. 6, 1961 at Salt Lake City, UTSource
---
Writings and Publications:
Our Lord of the Gospels (book)
Stand Fast by Our Constitution (book)
Who is our Savior? (.html, Adobe .pdf) (article from Improvement Era, Nov. 1962)
---
Source: Joseph Fielding Smith, Essentials in Church History, (Deseret Book Company, Salt Lake City, UT: 10th Ed. 1944 (1922)) Appendix, page 661.) and Grandpa Bill's GA Pages.
---